Similar to PI, Bee coins are mined from a mobile only app. Meaning low cost mining that could result in substantial profits if the coin value increases.
Bee Network is a new blockchain innovation that provides gamified experience for users to earn Bee, a cryptocurrency that you can mine on your mobile phone. By playing the roles of Miner, Referrer and Verifier, Bee Network players will earn rewards in Bees. In order to make Bee valuable, Bee Network is specially designed as a network consisting of genuine people which fosters players to exchange goods, service and expertise in real life with their Bee balance and eventually list Bee on major cryptocurrency exchanges for trading Bee with fiat money.
Bee value is currently very low but if the project continues to grow the value could increase substantially, keeping in mind that the cost of mining is minimal.
Current base rate is 0.4 Bee mined per hour and this can be increased in several ways including referrals, playing games, completing surveys, signing up for vouchers etc. all on the Bee network. The next rate halving will happen when 10M users are signed up.
I have not noticed any ads within the app, instead it utillizes the network marketplace to ensure the project stays viable.
It is very easy to sign up and start mining, it requires you to click one button every 24 hours to confirm that you are not a bot.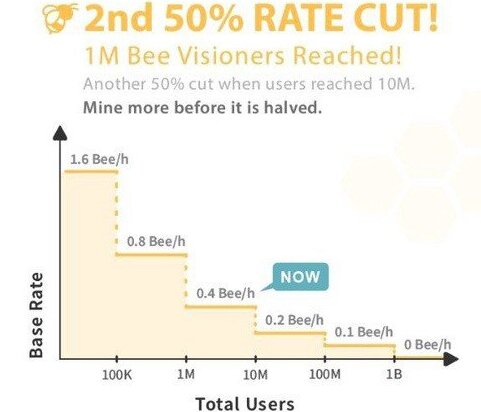 Rating
Ease of use – 5/5
Coin value – 1.5/5
Ads – 5/5
Mining Speed – 4/5
Referrals – 5/5
Future Outlook – 4/5
Overall Score – 4.1/5
Download now! And use referral username: malanvr